Hello gorgeous wedding chics, today I'm doing a big focus on eco-friendly and ethical wedding planning as there are lots of local suppliers who do fabulous things that you really need to know about.
Something to consider for the traditional or unconventional bride and groom, is a romantic and earth friendly event which still ticks all the right beautiful boxes. More and more I hear brides wanting to find organic, fair trade, seasonal and ethical products. Which I think is a rather fabulous thing, don't you?
The Eco-Venue
So first up on the eco-to-do list is… the venue.
There are lots of fabulous places to get hitched the green way in Gloucestershire and the surrounding areas and two of my top picks are Winkworth Farm and Abbey Home Farm.
Here's what Winkworth have to say….

"With well-established lawns, herbaceous borders, a stunning sunken garden and acres of organic meadows, there are plenty of magical photographic opportunities to help you capture your special day. Winkworth Farm is available for exclusive use, with a choice of excellent caterers nearby who use local, fair-trade and organic produce when possible. Couples can tie the knot in the farm's ancient Cotswold stone threshing barn, which has been lovingly renovated to seat up to 200 guests on one level or in the beautiful roundhouse in the walled rose garden. Owners Jeremy and Melanie Newman pride themselves on the laid-back, exclusive atmosphere they create for their wedding parties. And in a delightful final touch, a native tree will be planted for every wedding or reception that takes place at Winkworth Farm." www.winkworthfarm.com 
And over to Abbey Home Farm….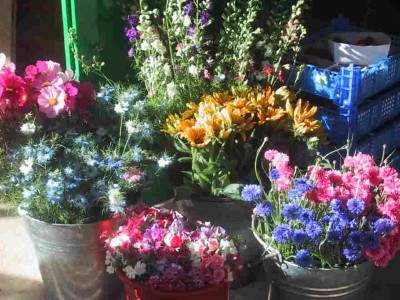 "A blessing at the stone circle or in the woods, local organic food, a large green oak venue to eat and dance in. The perfect place if you are looking for a truly organic wedding reception with really seasonal local food, a relaxed and informal atmosphere and friendly staff. As we have organic certification in our farm, shop and cafe we only offer an organic package, with nothing brought in from outside. We supply everything from the cake to the flowers or hedgerow plants or berries, to the drink and the food which will not suit everybody, but is great for those looking for a completely organic day all in one. For the carbon footprint conscious you will feel at home here as we strive to lower and footprint and live more lightly on the earth every day." www.theorganicfarmshop.co.uk            
So two different options, both with a fabulous ethos and stunning location.  If these don't quite fit the bill then I also LOVE and highly recommend The Matara Centre and Folly Farm. There are also lots of other options in Somerset, Devon and Cornwall so do contact me if you'd like further details.
The Ethical Dress
We've only just begun on our green wedding journey however, there is so much more to think about… and I guess you've all been thinking about THE DRESS so let's look at some ethical and preferably local options for the ladies.
I adore the designs at Motasem which are made from natural silks which haven't undergone a dyeing process – so it's kinder to the environment than normal silks. They even have a Pippa Middleton bridesmaid dress lookalike!
I have also fallen in love with Lucy Tammam designs who designs and produces ethical, sustainable, organic, environmentally friendly and stylish wedding gowns. The beaded jersey dress is so unusual and pretty, made from organic cotton jersey with recycled ribbon and vintage beads. Beautiful.
If you are looking to have a wedding dress made for you from scratch, then in order to stick with the eco-credentials you should really try to have it made from sustainable fabrics such as hemp, organic cotton, bamboo, or from vintage fabrics. If you're particularly creative and have come up with your own design, find a seamstress in the Cotswolds  like Denise Milsom who can fashion your own one-of-a-kind gown. If the dressmaker doesn't have their own source for sustainable fabrics, Drapers Organic will soon be stocking more hemp and silks suitable for wedding dresses that you can order direct.
There are a number of designers on Etsy who will also be able to help with a special design, and of course there are always specialist vintage wedding dress suppliers such as The Vintage Wedding Dress Company who have a vast collection of unique and gorgeous styles to suit all brides.
Do follow the same rules for bridesmaids and the rest of the wedding party… try Junky Styling for the boys.
Eco-friendly Flowers
One of my all time favourite florists in the South West is Bella and Fifi who are based in Bristol and have some amazing suggestions using locally grown and organic flowers in their wedding creations.
The very nature of the eco-friendly theme suggests to me wild flowers, unstructured and naturally beautiful. However there is no reason why you couldn't have an intensely glamourous affair with far more structure… simply using the best local suppliers in the industry. As long as you do it your own way, then it will work!
If budgets are tight and you still want to go green, then it may be worth looking at artificial flowers. I personally adore scented flowers and think that freshly picked blooms really turn a wedding venue into the dream event.. but having seen Faux Flower Design in Gloucestershire I was prepare to think outside the box!
You can always mix up artificial and real flowers, there is no need to stick to rules. Artificial flowers are an eco-friendly alternative to real flowers, but if you're wanting the real thing then do ask your florist whether they can source fair trade, locally grown or organic flowers for your bridal bouquets, button holes and venue decorations.
It's all in the detail….
One of the easiest places to do right by the environment is in choosing invitations. Keep an eye out for those made with recycled paper, and designs that use less paper. Many couples also defy convention and wedding etiquette in this modern age by emailing invites and using free websites to provide guests with information and collect RSVP's.
When feeding your hungry and thirsty guests, find caterers and venues who source food and drink from local and/or organic producers.
Why not offer guests mini plants or seeds to sew as your favours (you can buy pretty coloured paper with seeds already embedded to make your own place names, guests can then plant them after the wedding – cute!).
There are lots of simple ways to help ensure that your wedding is as green as it can be….try to avoid disposable products wherever possible (caterers should use real dishes, linens, cutlery and glassware, or rent them if necessary),  bear in mind your transport options (suggest car sharing to guests and arrive in a horse and cart!), remember that those disposable cameras at every table are great fun but they can be very wasteful…. how about sourcing old cameras on ebay instead?
Planning and sourcing suppliers for an eco-friendly wedding involves a lot of research and attention to detail. I could have carried on for hours with this post suggesting different options for couples looking to get hitched the green way in the Cotswolds… so if you want a wedding that matches your environmental awareness then do consider hiring a wedding planner, even if only to do the search and selection part of the process. I have different services and packages to suit all budgets, and most planners would be delighted to work on an exciting project like this.
I'd love to hear of any other suppliers in Gloucestershire and the South West who have fabulous stylish and green products and services on offer so please do get in touch. If you're a bride who has already embarked on this "theme" then PLEASE send me your photo's and story… I'd absolutely love to see them.
Til next time folks….
Jessie  xx
Twitter @Jessie_Thomson